| | | | | | | |
| --- | --- | --- | --- | --- | --- | --- |
| | About Us | Alpine Does | LaMancha Does | Saanen Does | Sires | Buying |
Alpine Reference Does
---
| | | |
| --- | --- | --- |
| GCH Sand Dance WRS Day Dream 8* M | French Alpine | 1/15/2001 |
| 2008 All American 7+ Aged Doe | | |
---
Sire: +*B GCH Willow Run Rico Splash
S. Sire: ++*B Sand Dance Rico Suave
S. Dam: SGCH Maple Glen Classic´s Angela 1*M EX92
1996 &amp 1997 National Champion
Dam: GCH Sand Dance SS Party Doll 7*M
D. Sire: *B CH Sand Dance Spring Sun
D. Dam: GCH Sand Dance HLS Golden Gala 6*M
---
2 times Best of Breed
3 times Grand Champion
2 times Reserve Grand Champion
A/F
Although Dream is retired from her show career, she is still an intrigal part of our herd.
We really love her udder, that even at age eleven is still held high and wide in the rear, and smooth in the fore. She has a beautiful head boasting correct breed type and elegance.
We currently have her two daughters, Skinny Dip, Truely and her son, Gold Digger, in our herd.
| | |
| --- | --- |
| | NEW- In honor of Dream's 11th birthday,we have put togethera tribute album on our facebook page, telling Dream's life story! |
| | |
| --- | --- |
| Dream as a yearling | Dream: 8years old, 8th lactation |
---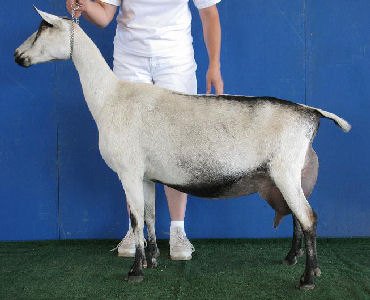 ---

Sire: +*B SGCH Aslan's-Own Diamond's Alex - 90 VEE

S. Sire: *B Aslan's-Own Admiral Patch

S. Dam: SGCH Aslan's-Own C.C. Diamond 1*M - 90 EVVE

Dam: Star-E Top Brass Tandra 1*M

D. Sire: *B Star-Mtn. Lazerus Top Brass

D. Dam: Hoach's Reverie Tender Heart

---

Linear Appraisal


5

-03 9

0 VEEE


DHIA


4

-01

271

2860

116



★ To Top ★
---

History - 2016 - Aged 5 - photo after she aborted
| | | |
| --- | --- | --- |
| GCH Hoach's SMXR History (AI) 3*M | American Alpine | 03/31/11 |
---
Sire: ++*B Shinning Moon X Rated
2012 National Premier Sire, Sire of the 2012 National Champion
Sire of the 2009 and 2012 National Junior Champion
S. Sire:++*B Willow-Run Wonder Revolution
Son of the 4 X National Champion - Rishona
S. Dam: SGCH Shinning Moon Sin Qua Non
2009 Reserve National Champion
Dam: GCH Hoach´s RHRS Heredity 2*M
D. Sire: ++*B Redwood Hills Revolution Speed
D. Dam: GCH Hoach´s Hollywood Heaven 1*M
---
1-02 87 VVVE
3-05 89 VEEV
5-04 90 EEVE
DNA on File
Alpna S1 Casein
E/F
Show Placings
4X GCH
3X BOB
History is a classic example of the extreme Alpine the Hoach program has strived for being exceptionally long and tall with a stylish mammary. When you sit down and look at the depth of her pedigree, you'll find she is a piece of history; combining the best genetics in the Alpine breed.
She is one of the last does in the direct maternal line from the national champion, Barbie Doll, on top of being line bred on the four time National Champion ,Rishona. History's sire, X-Rated, has produced some remarkable daughters at Redwood Hills with several first place National Show wins, including this years Jr. and Sr. National Champions.
History will be bred AI to the sire of the 2011 National Champion:
*B Redwood Hills Ember Sebastian for spring 2015 kids.
History - 2012 - Yearling Milker

Paternal Half Sister - SGCH Redwood Hills X-Rated Rima
2012 National Champion
photo courtesy of Redwood Hills

Dam: GCH Hoach's RHRS Heredity 2*M
★ To Top ★
---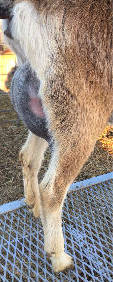 | | | |
| --- | --- | --- |
| Loughlin's Armand Fame AI 1*M | French Alpine | 04-06-14 |
---
Sire: ++*B Willow Run LA Armand
S. Sire: ++*B Hoach's Lyric Landmark
S. Dam: SGCH Maple-Glen Classic's Angela 1*M EX 92
Dam: Loughlin's Fiona
D. Sire:*B Willow Run Rev. At Last VG89
D. Dam: Loughlin's Remus Floria
---
2-04 85 +VAV

3-04 88 EVVV

Show Placings

1X BOB

F/F

Fame is truly shaping up to be everything we hope for with a balanced good production, sound conformation and consistently beautiful progeny. Fame sets herself apart for her extremely high and wide rear udder attachment. We are so grateful to Loughln's for sharing this special doe.

Fame - 2014 ADGA National Show


Dam: Loughlin's Fiona


Pat. Sister: SGCH Willow Run Armand Rishona 2*M EX 92
2000, 2002, 2003 and 2004 Nat'l Grand Champion
★ To Top ★
---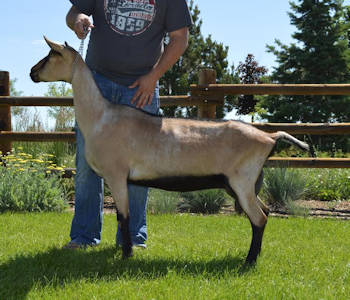 | | | |
| --- | --- | --- |
| Rancho-Snowfall Heartbreaker 4*M | American Alpine | 03-22-14 |
---
Sire: +*B SG Redwood Hills Tribute Sailor
S. Sire: *B Tempo Aquila Fortune Tribute
Son of the 2006 National Champion
S. Dam:SGCH Redwood Hills F Seabastinne 11*M EX93
2 X's Top Ten Milk Production
Dam: Hoach's SMXR History
D. Sire: ++*B Shining Moon X-Rated
D. Dam: GCH Hoach's RHRS Heredity 2*M
---
2-04 87 VVVV

Show Placings

Heartbreaker is hands down the tallest and longest Alpine here. Very much like her mother, she has a very well attached mammary with ideal teat size, shape and placement. Heartbreaker missed this show season after having abdominal surgery and a slow recovery. We are ecstatic to have her confirmed bred to *B Redwood Hills Rima Rendezvous.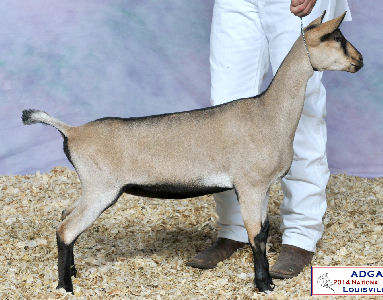 Heartbreaker - 2014 - ADGA National Show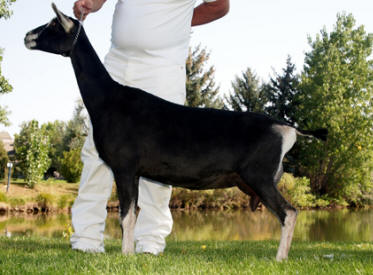 Dam: Hoach's SMXR History
★ To Top ★
---
Saanen Reference Does
---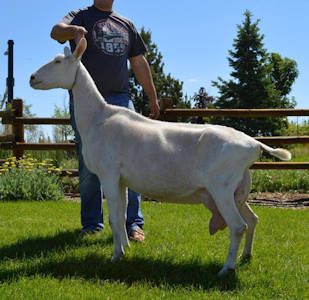 | | | |
| --- | --- | --- |
| SG Loughlin's Dream Charisma 1*M | American Saanen | 03/09/13 |
---
Sire: ++*B Windsor-Manor WMT Dream Maker 3-03 90 VEE
Sire of 2000 National Champion
S. Sire:++*B Windsor Manor Trail Blazer
S. Dam: Des-Ruhigestelle Dream 2*M
Dam: Udderly Crazy Caprese
D. Sire: *B Companeros Cacciatore
D. Dam: GCH Udderly Crazy Basil 2*M VG-89
---
3-05 89 VVEV
Show Placings
B/E
Charisma as a yearling mlker
Dam: Udderly Crazy Caprese
Photo Courtesy of Loughlin's Dairy Goats
Paternal 1/2 Sister: CH Loughlin's Just a Dream
Photo Courtesy of Loughlin's Dairy Goats
★ To Top ★
---
Dr. James H.E. Haught, DVM
★ 2395 CR 142
★
Elizabeth, CO 80107
★
970-420-4133
★
haughtdvm@gmail.com
updated
08/01/2019