Experimental SaManchas
ADGA Registered Saanen LaMancha Crosses
---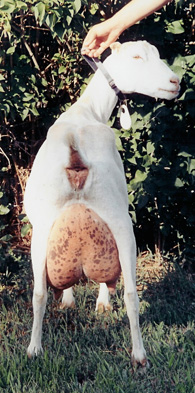 Digging back into our roots, we have once again started producing experimentals.
We are often asked what is the best beed of dairy goat, and the answer has always been a Saanen LaMancha cross for us. These animals are truly hard workers in the milk parlor with an exceptional balance of vigor, high production, and good components. Throughout the Rancho-Snowfall history, you will find that experimentals have played an active role in milk line.
Pictured here is one of my all time favorite does, Snowstorm, in the summer of 2002. Although Snow has not been with us for some time, we often think about her and hope to one day have a small group of "SaManchas" just like her.
These animals are bred with an eye towards commercial production.
---
★To Top ★
---
Dr. James H.E. Haught, DVM
★
62400 E 2ND Lane
★
Byers, CO 80103
★
970-420-4133
★
haughtdvm@gmail.com
updated 5/2013