Sr. Alpine Does
---
| | | |
| --- | --- | --- |
| Hoach's SMXR History (AI) | American Alpine | |
---
Sire: ++*B Shinning Moon X Rated
2012 National Premier Sire, Sire of the 2012 National Champion
Sire of the 2009 and 2012 National Junior Champion
S. Sire:++*B Willow-Run Wonder Revolution
Son of the 4 X National Champion - Rishona
S. Dam:SGCH Shinning Moon Sin Qua Non
2009 Reserve National Champion
Dam: GCH Hoach´s RHRS Heredity 2*M
D. Sire:++*B Redwood Hills Revolution Speed
D. Dam:GCH Hoach´s Hollywood Heaven 1*M
---
1-02 87 VVVE
History is a classic example of the extreme Alpine the Hoach program has strived for being exceptionally long and tall with a stylish mammary. When you sit down and look at the depth of her pedigree, you'll find she is a piece of history; combining the best genetics in the Alpine breed.
She is one of the last does in the direct maternal line from the national champion, Barbie Doll, on top of being line bred on the four time National Champion ,Rishona. History's sire, X-Rated, has produced some remarkable daughters at Redwood Hills with several first place National Show wins, including this years Jr. and Sr. National Champions.
---
Paternal Half Sister - SGCH Redwood Hills X-Rated Rima
2012 National Champion
photo courtesy of Redwood Hills

Dam: GCH Hoach's RHRS Heredity 2*M
★ To Top ★
---
| | | |
| --- | --- | --- |
| GCH Sand Dance WRS Day Dream 8* M | French Alpine | 1/15/2001 |
| 2008 All American 7+ Aged Doe | | |
---
Sire: +*B GCH Willow Run Rico Splash
S. Sire: ++*B Sand Dance Rico Suave
S. Dam: SGCH Maple Glen Classic´s Angela 1*M EX92
1996 &amp 1997 National Champion
Dam: GCH Sand Dance SS Party Doll 7*M
D. Sire: *B CH Sand Dance Spring Sun
D. Dam: GCH Sand Dance HLS Golden Gala 6*M
---
2 times Best of Breed
3 times Grand Champion
2 times Reserve Grand Champion
A/F
Although Dream is retired from her show career, she is still an intrigal part of our herd.
We really love her udder, that even at age eleven is still held high and wide in the rear, and smooth in the fore. She has a beautiful head boasting correct breed type and elegance.
We currently have her two daughters, Skinny Dip, Truely and her son, Gold Digger, in our herd.
| | |
| --- | --- |
| | NEW- In honor of Dream's 11th birthday,we have put togethera tribute album on our facebook page, telling Dream's life story! |
| | |
| --- | --- |
| Dream as a yearling | Dream: 8years old, 8th lactation |
★ To Top ★
---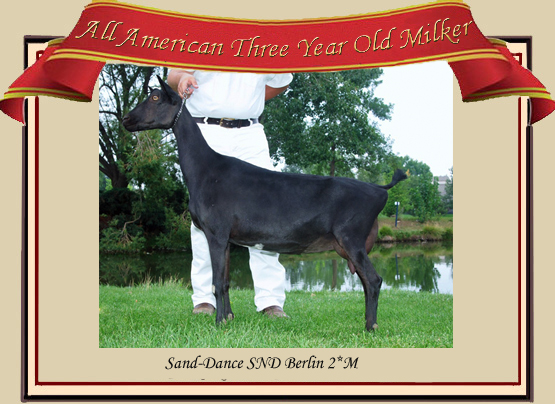 | | | |
| --- | --- | --- |
| Sand-Dance SND Berlin 2*M | French Alpine | 1/26/2009 |
---
Sire: *B Sand-Dance WRS Night Deposit
S. Sire: ++*B GCH Willow-Run Rico Splash
S. Dam:GCH Sand-Dance Night Fever 8*M
Dam: GCH Sand-Dance HLL Beyonce 1*M
D. Sire: ++*B GCH Hoach´s SSS Lyric Longevity
D. Dam:CH Sand-Dance SDT Bon Bon
---
LA 3-02 90 EEEE
DHIA
2-0 237 2050 66 56
Berlin is a striking jet black doe with a long elegant neck and level top line. This French Alpine has a beautiful mammary system that is both stylish and functional, with easy to milk teats, soft texture, and snug attachments. We can´t wait to get Berlin out in the show ring this coming spring.
Berlin will be bred AI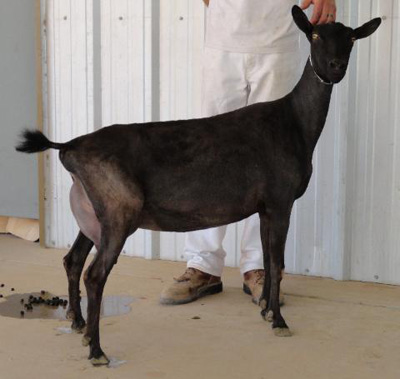 Berlin - 2yrs old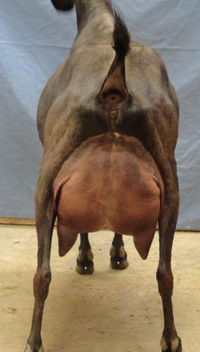 Berlin - 3 yrs rear udder
★ To Top ★
---
| | | |
| --- | --- | --- |
| Rancho-Snowfall Skinny Dip 9*M (AI) | French Alpine | 5/12/09 |
---
---
3- 1 90 EEEE
2 times Reserve Grand Champion
4 times First Place
DHIA
2-00 107 700 22 2.7
2-11 178 1870 56 44
Skinny Dip is a tall doe with alot of style and ring presence. She has topped the three year old class nearly every show this year for her long bone pattern, sound structure, smoothness of blending and balanced mammary.
A second freshening has brought with it more bloom and shape to Skinny Dip´s well attached mammary and a significant increase in production. She has been doing well over 1 and 1/2 gallons a day this lactation. Skinny Dip has one daughter in the herd right now, Somersault. We are currently planning another exciting breeding for this fall to Iron-Rod Rhett Manchester for Spring 2014 French Alpine kids.
Rancho-Snowfall Skinny Dip
★ To Top ★
---
| | | |
| --- | --- | --- |
| Sutton's AR Moondust | American Alpine | 3-21-2007 |
---
Sire: +*B Willow Run Ahren Rhett EX 90EEE
S. Sire:B Willow Run Caesar Ahren
S. Dam:SGCH Willow Run Armond Rishona 3*M EX 92EEEE
2000, 2002, 2003 & 2004 ADGA National Champion
Dam: CH Sutton´s RLY Dream Dust 2-05 90 VEVE
D. Sire:Amy´s Pride AR Riley
D. Dam:GCH Sutton's BTS Stardust 1*M 8-01 91 EEEE
---
Moondust's owner had her at a commercial dairy, and wanted to place her where there would be less goats. We had not seen Moondust since she was a kid, but really like what her half brother Manchester is doing in our herd.
We thought this would be a great fit for her. She is a long, level rumped doe with tons of bone.
Moondust will be bred to *B Redwood Hills Tribute Sailor for Spring 2014 kids
'

CH Sutton's RLY Dream Dust EX90 (Dam)
Photo Courtesy of Sutton´s Alpines.

Sutton's AR Moondust
★ To Top ★
---
Dr. James H.E. Haught, DVM
★
62400 E 2ND Lane
★
Byers, CO 80103
★
970-420-4133
★
haughtdvm@gmail.com
updated 5/2013