Sr. Alpine Does
---

History - 2016 - Aged 5 - photo after she aborted
| | | |
| --- | --- | --- |
| GCH Hoach's SMXR History (AI) 3*M | American Alpine | 03/31/11 |
---
Sire: ++*B Shinning Moon X Rated
2012 National Premier Sire, Sire of the 2012 National Champion
Sire of the 2009 and 2012 National Junior Champion
S. Sire:++*B Willow-Run Wonder Revolution
Son of the 4 X National Champion - Rishona
S. Dam: SGCH Shinning Moon Sin Qua Non
2009 Reserve National Champion
Dam: GCH Hoach´s RHRS Heredity 2*M
D. Sire: ++*B Redwood Hills Revolution Speed
D. Dam: GCH Hoach´s Hollywood Heaven 1*M
---
1-02 87 VVVE
3-05 89 VEEV
5-04 90 EEVE
DNA on File
Alpna S1 Casein
E/F
Show Placings
4X GCH
3X BOB
History is a classic example of the extreme Alpine the Hoach program has strived for being exceptionally long and tall with a stylish mammary. When you sit down and look at the depth of her pedigree, you'll find she is a piece of history; combining the best genetics in the Alpine breed.
She is one of the last does in the direct maternal line from the national champion, Barbie Doll, on top of being line bred on the four time National Champion ,Rishona. History's sire, X-Rated, has produced some remarkable daughters at Redwood Hills with several first place National Show wins, including this years Jr. and Sr. National Champions.
History will be bred AI to the sire of the 2011 National Champion:
*B Redwood Hills Ember Sebastian for spring 2015 kids.
---
History - 2012 - Yearling Milker

Paternal Half Sister - SGCH Redwood Hills X-Rated Rima
2012 National Champion
photo courtesy of Redwood Hills

Dam: GCH Hoach's RHRS Heredity 2*M
★ To Top ★
---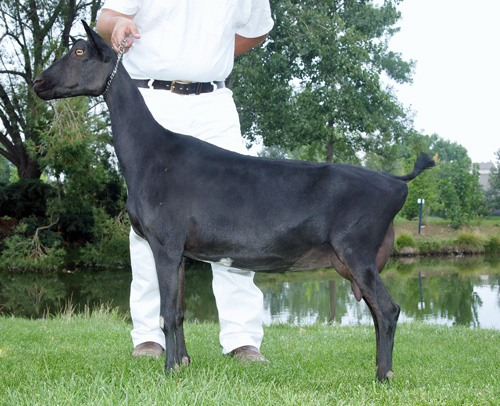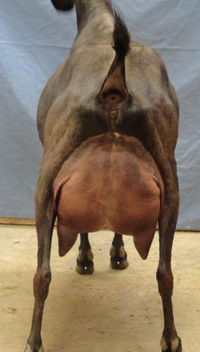 | | | |
| --- | --- | --- |
| Sand-Dance SND Berlin 2*M | French Alpine | 01/26/09 |
---
Sire: *B Sand-Dance WRS Night Deposit
S. Sire: ++*B GCH Willow-Run Rico Splash
S. Dam: GCH Sand-Dance Night Fever 8*M
Dam: GCH Sand-Dance HLL Beyonce 1*M
D. Sire: ++*B GCH Hoach´s SSS Lyric Longevity
D. Dam: CH Sand-Dance SDT Bon Bon
---
3-02 90 EEEE
5-07 87 VVVV
DHIA
2-0 237 2050 66 56
DNA on File
Alpha S1 Casein
E/E
Berlin is a striking jet black doe with a long elegant neck and level top line. This French Alpine has a beautiful mammary system that is both stylish and functional, with easy to milk teats, soft texture, and snug attachments. We can´t wait to get Berlin out in the show ring this coming spring.
Berlin will be bred AI to the 2014 National Premier Sire: *B Wind Rush IRS Charmer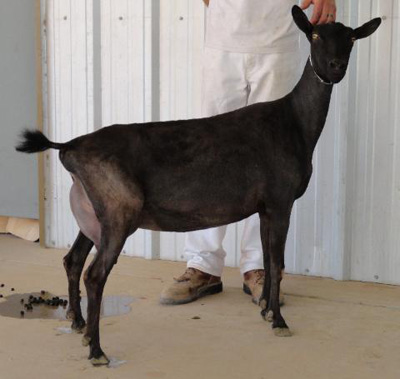 Berlin - 2yrs old
★ To Top ★
---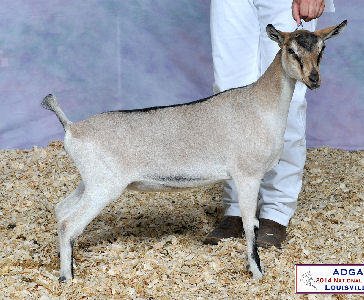 | | | |
| --- | --- | --- |
| Rancho-Snowfall Paris Original | American Alpine | 02-27-14 |
---
Sire: +*B SG Redwood Hills Tribute Sailor
S. Sire: *B Tempo Aquila Fortune Tribute
Son of the 2006 National Champion
S. Dam: SGCH Redwood Hills F Seabastinne 11*M EX93
2 X's Top Ten Milk Production
Dam: Sutton's AR Moondust EX 90
D. Sire: +*B SG Willow Run Ahren Rhett EX90
D. Dam: CH Sutton's RLY Dream Dust EX90
---
YSA VVV = V

Show Placings

I'm very excited about Paris. She is powerful yet clean boned and smoothly blended. She has tremendous depth and width compared to her contemporary group.

For spring 2015 kids, she is planned to be bred AI to the 5 time National Premier Sire, ++*B Sodium Oaks Sasin.
| | |
| --- | --- |
| | Dam: Sutton's AR Moondust |
★ To Top ★
---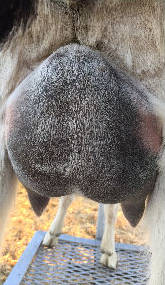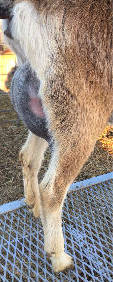 | | | |
| --- | --- | --- |
| Loughlin's Armand Fame AI 1*M | French Alpine | 04-06-14 |
---
Sire: ++*B Willow Run LA Armand
S. Sire: ++*B Hoach's Lyric Landmark
S. Dam: SGCH Maple-Glen Classic's Angela 1*M EX 92
Dam: Loughlin's Fiona
D. Sire:*B Willow Run Rev. At Last VG89
D. Dam: Loughlin's Remus Floria
---
2-04 85 +VAV

Show Placings

F/F

We really have enjoyed having Fame in the milking herd this year. With her calm and patient personality you would never know she wasn't a seasoned professional.

Fame - 2014 ADGA National Show


Dam: Loughlin's Fiona


Pat. Sister: SGCH Willow Run Armand Rishona 2*M EX 92
2000, 2002, 2003 and 2004 Nat'l Grand Champion
★ To Top ★
---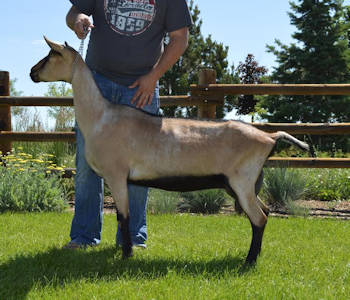 | | | |
| --- | --- | --- |
| Rancho-Snowfall Heartbreaker | American Alpine | 03-22-14 |
---
Sire: +*B SG Redwood Hills Tribute Sailor
S. Sire: *B Tempo Aquila Fortune Tribute
Son of the 2006 National Champion
S. Dam:SGCH Redwood Hills F Seabastinne 11*M EX93
2 X's Top Ten Milk Production
Dam: Hoach's SMXR History
D. Sire: ++*B Shining Moon X-Rated
D. Dam: GCH Hoach's RHRS Heredity 2*M
---
2-04 87 VVVV

Show Placings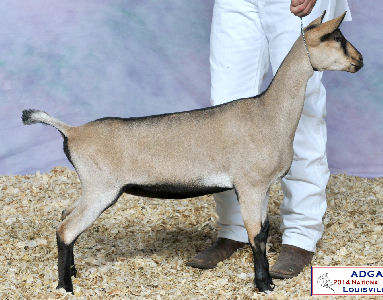 Heartbreaker - 2014 - ADGA National Show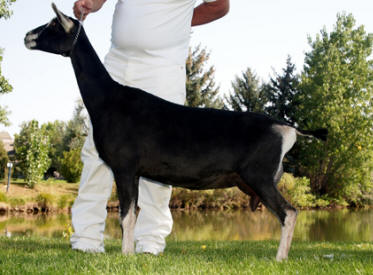 Dam: Hoach's SMXR History
★ To Top ★
---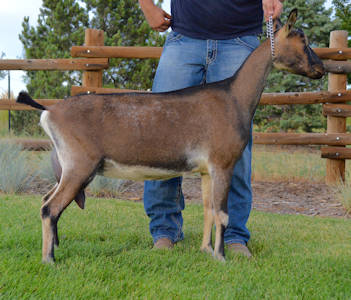 | | | |
| --- | --- | --- |
| Rancho-Snowfall WRC Baton Rouge | French Alpine | 03/17/15 |
---
---
1-04 84 +V+V

Show Placings

E/F
★ To Top ★
---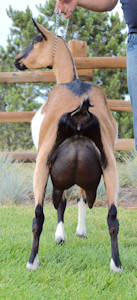 | | | |
| --- | --- | --- |
| SG Rancho-Snowfall Flambeaux | American Alpine | 04-16-15 |
---
---
1-03 86 VVVV

Show Placings

E/F
---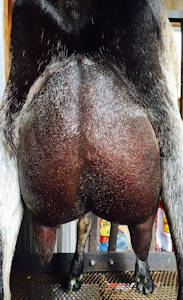 | | | |
| --- | --- | --- |
| Rancho-Snowfall Tiffany | French Alpine | 06-10-15 |
---
Sire: *B Rancho-Snowfall BourneIdentity 88 VEV
S. Sire: ++*B Hoach's Lyric Landmark
S. Dam: Sand Dance SND Berlin 2*M 87 VVV
Dam: SGCH Winsong Tandra's Tara 2*M 90 VEEE
D. Sire: +*B SGCH Aslan's-Own Diamond's Alex 90 VEE
D. Dam: Star-E Top Brass Tandra 1*M
1-02 86 +V+V

Show Placings

E/F
★ To Top ★
---
Dr. James H.E. Haught, DVM
★
7184 Sun Country Drive
★
Elizabeth, CO 80107
★
970-420-4133
★
haughtdvm@gmail.com
updated 12/19/2016